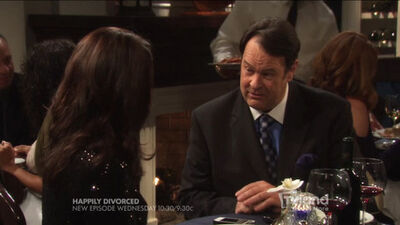 Fran-alyze This is the tenth episode of the second season of Happily Divorced. It aired on May 16th, 2012.
Finding dream prince Elliot utterly out of reach, Fran is told by her loved ones to stop aiming too high.
Meanwhile, blind dating through an Internet site with Harold proves a disaster which doesn't even reach dessert.
Elsewhere, the next step proves to be counseling, but the therapist is none other than Harold. 
Ad blocker interference detected!
Wikia is a free-to-use site that makes money from advertising. We have a modified experience for viewers using ad blockers

Wikia is not accessible if you've made further modifications. Remove the custom ad blocker rule(s) and the page will load as expected.