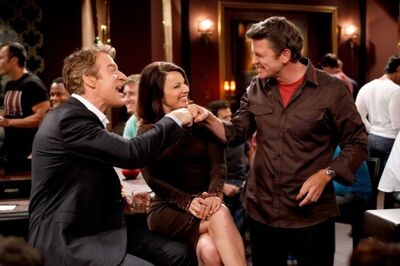 A Date with Destiny is the fourth episode of the first season of Happily Divorced. It aired on July 6th, 2011.
Seeking inspiration to earn money, the divorcees go through their garage stash photographs. Both are struck by a picture of former student lifeguard Richard, Fran's summer crush. He's now a developer, so Peter is as eager to meet him and makes friends.
Meanwhile, Fran is delighted to get a date, until she accidentally learns about his estranged son. 
Ad blocker interference detected!
Wikia is a free-to-use site that makes money from advertising. We have a modified experience for viewers using ad blockers

Wikia is not accessible if you've made further modifications. Remove the custom ad blocker rule(s) and the page will load as expected.